Building landing pages can be costly for your business, especially if you're engaging the services of a web designer each time. QRES Landing Pages make it easy for you to create your own mobile friendly landing pages which can greatly increase conversions for your PPC or email marketing campaigns.
What are landing pages?
Headline, compelling copy, lead capture, call-to-action and great images are all ingredients that make up a landing page.
The headline is going to grab people's attention and get them to your landing page.
The compelling copy is what will prompt them to fill out the form asking for more information.
The lead capture is the personal information collected from the form.
The call-to-action is the button, image or text which promps them to take action - Find Out More, Call Now! etc.
By showing them something (property, urbanisation, new development etc) or giving them something of value (brochure, buying/selling guide etc), they are in exchange giving you permission to contact them. Landing pages allow you to to target specific audiences so you need to know who you are marketing to.
What can you use landing pages for?
Landing pages should be used for targeted promotions or property listings, for example -
Promoting a single property
Promoting multiple properties on an urbanisation
Promoting a new development
Promoting new offers
Promoting an event
Offering free home valuation or consultation
Newsletter sign-ups
Sign-ups for guides and brochures
Discounts and price reductions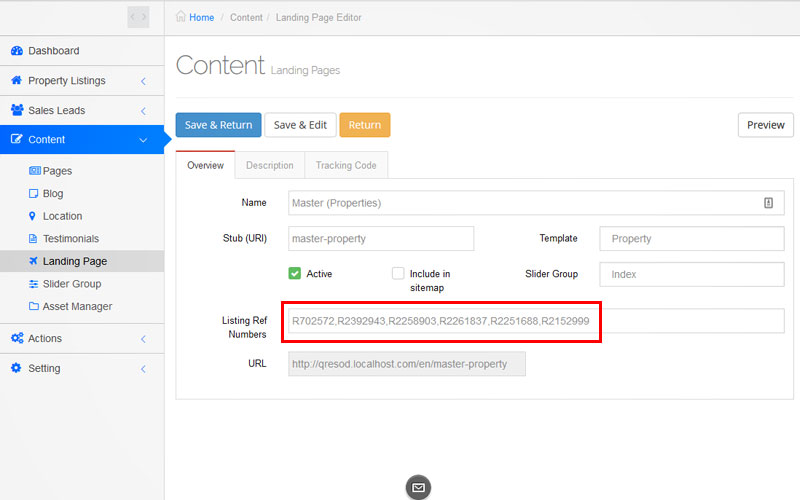 How does the QRES Landing Page Plugin work?
Seamlessly integrated into your webiste, QRES-LP gives you the functionality to create or duplicate and deploy landing pages yourself, as many times as you want. QRES-LP capture leads through a general form giving access to more information or brochure downloads, as well as individual forms for each featured property. Each processed form goes into your website Lead Manager, as well as sending you an email notification.
What we do
Talk to you to define your goals and build a template that fits in well with your campaign
Create the landing page template with your own branding
Create the form fields required
Include location maps and additional graphics if required
Add an editable standard Privacy Policy
Put you in charge of your marketing budget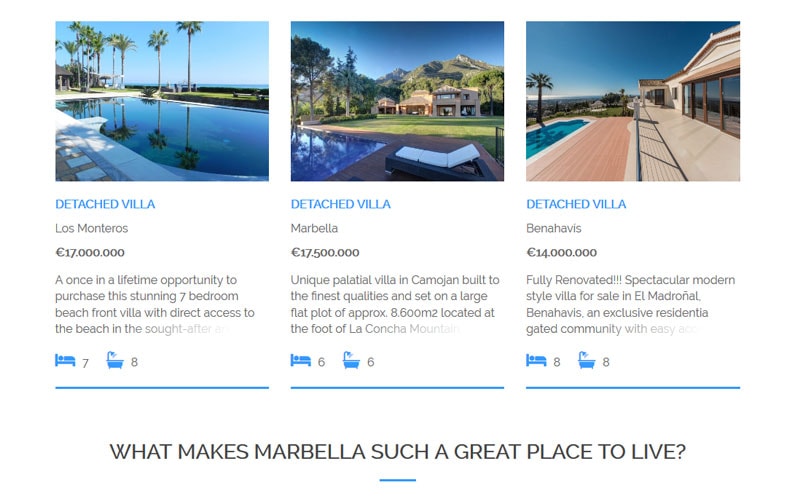 What you do
Build your own gallery slider for each template adding multilingual captions if required
Create your own primary headline and url to include your keywords
Create the form title and form text
Create the overview text
Create bullet points of key benefits
Create your Thank You text
Add the property reference numbers for display and/or additional images
Upload PDF brochures to the Asset Manager ready for download
Choose your own primary headline together with an SEO friendly URL
Publish the landing page instantly!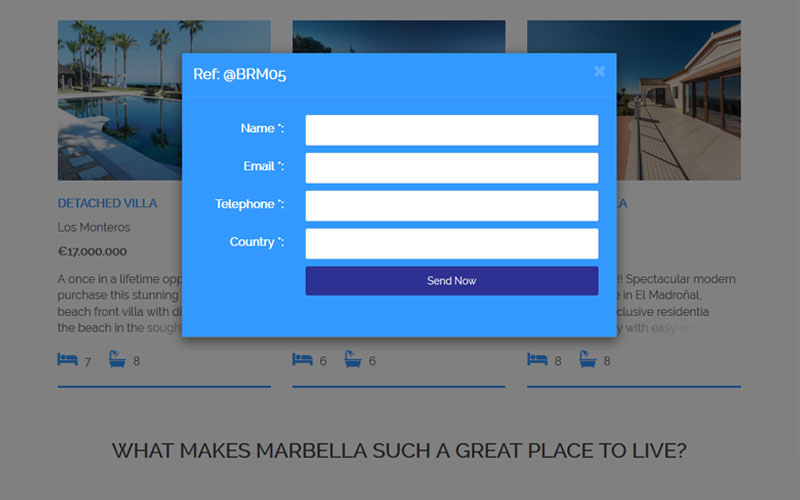 Remember - keep landing pages simple and focused. Too much text or too many call-to-action will affect the conversation rate.
Don't have time to build your own landing pages? No problem, we can build them for you from €150 per template.
Contact us for more information.