High search engine rankings are crucial to a small business' online success. Two primary factors contribute to how your website will perform in Google and other search engines:
On page ranking factors: the technical factors of your website are key to the site's search engine optimisation. A well-built website will allow you to improve your SEO without assistance from your webmaster. The option to edit SEO titles and add descriptions, links, images, etc, should be readily-available to you.
Off page ranking factors: several factors contribute to your off-page rankings. One of the most important is both the quality and quantity of websites that link back to your site. Quality content is essential to your website's popularity.
In this article, our goal is to offer some advice on how you can improve your on-site SEO in a few simple steps.
Below screenshots of the QRES (Quantum Real Estate Software) website admin and Casares Theme for QRES On Demand and QRES Cloud. If you're not a QRES client, your admin may look different, but should include similar features.
Built by Quantum23 from the ground up, QRES offers many useful features. It's important to remember that QRES Cloud for AJAX/Webkit does not have a listing admin, so you cannot perform any SEO improvements on listings.  However, QRES XML and Standalone allows you to boost SEO by improving page titles, enrich listing descriptions with keywords and add your own photos (the same as any other web page or blog article). All meta data such as price changes, location, beds/baths etc is kept up to date via the XML feed.
More info on enhancing SEO for property listings soon - so stay tuned!
Identifying Keywords for Your Real Estate Website
The first step to optimising your on-page SEO is to identify a list of keywords you want to be found on. Use keywords and keyphrases that people search for when looking for your product, service and area. In this case, use keywords relating to your real estate business and your area of focus.
Don't use the same keywords on different pages of your website - your pages will be competing with each other for rankings.
Once you've got your list of keywords, divide them up between the number of pages you have on your site. Remember, services and location pages are great for SEO promoting what you do and in which area.
Does Your Website Admin Allow You to Easily Update Your SEO?
A well-built website should allow you to have control of your SEO so you or your marketing team can update it with ease.
Choosing the right Stub (URI) is especially helpful for your page's optimisation - include keywords in the page's stub. For example:
http://casares.q23.io/en/property-maintenance-in-casares/
The part highlighted in bold is the Stub (URI). It will contribute to your page's overall SEO.
QRES allows you to optimise your website in all the languages your website is in, not just English.
Let's have a look through the fields:
Page Title: This will be the title that appears at the top of your content page.
SEO Title: Thisappears in both your browser tab and Google's search results.
SEO Keyword: The keywords and keyphrases you want your page to rank for (now depreciated for all major browsers).
SEO Description: A short description about your page which displays below your page's title in Google search results. Use this space to tell users a little bit about what they can expect to read on this page, and use your keywords!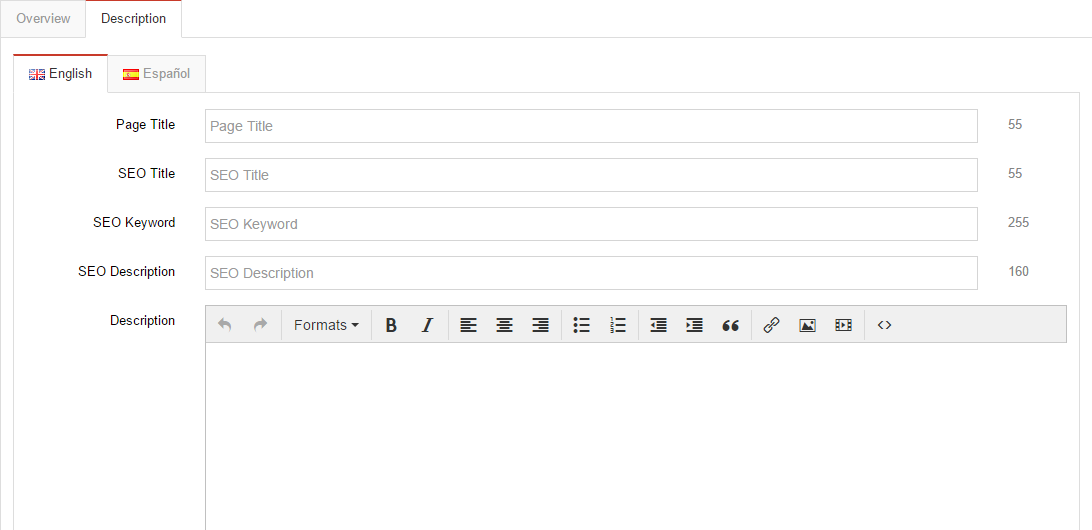 Three Ways to Optimise Your Real Estate Website
There are three steps you can follow to improve your real estate website's search result rankings:
Apply your keywords to the text. You want to rank well for these keywords, but don't overdo it - 3 or 4 times is enough.
Give your images descriptive titles and alt texts using your keywords. Mix these up a bit and don't not use the same title and alt text for each image.
Edit your page titles, SEO titles and meta descriptions to include your keywords. QRES makes this process easy for you; each of the designated fields show a character count. The character count is a useful guide to how much Google and other search engines read.
Apply this process across all the pages on your website with the keywords you have selected for each. Another perk of optimising your website is that it will help generate Google Extended Links.
Additional Tools to Help Your Google Rankings
There are many off-page factors that contribute to your rankings.
As a quick overview, below are some important steps you should take to boost your rank.
Set up Google Websmaster Tools and submit your XML sitemap. This is usualy done by your web developers when your new website website is launched.
Set up Google Analytics. This is usually done by your web developer and providing you with full access. Google Analytics allows you to see how your website is performing, how many people visit your website, page views, how long they stay on your site, how they found your website, bounce rate etc.
Google Plus does have an impact on your Google rankings. It's an essential tool and social media platform for all small businesses.
Google My Business. Publish essential information such as business hours, phone number and directions to your business.
These three steps will help get you started with your off-site SEO. Stay tuned for more information and blogs from the team at Quantum23. If you have any questions, please don't hesitate to contact us!